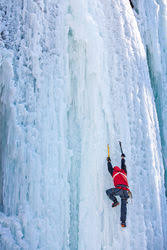 I am surrounded by concrete walls, four feet thick, and a steel door that weighs anywhere from five to six thousand pounds. I'm in! Surrounded by an incalculable amount of wealth. It's not mine but I am in the vault. No, I did not break in—my son works at the bank so I get the cheap tour. Because of who I know I have access into this incredible vault.
Same with God, because I know the Son, I have access to heaven's vault. Jesus said, "Have faith in God.  For assuredly, I say to you, whoever says to this mountain, 'Be removed and be cast into the sea,' and does not doubt in his heart, but believes that those things he says will be done, he will have whatever he says. Therefore I say to you, whatever things you ask when you pray, believe that you receive them, and you will have them . . ." (Mark 11:22-24).
Really, is that true? Can I walk into the vault of heaven and have anything that is in the will of God? I only have to ask and I can have it before I leave the vault? Yes! Like any safe however, heaven's vault holds its own prerequisites for access. One, know the Son personally—Jesus. Two, there is a mountain that first has to be removed. Look closely and you will see it in His closing remarks concerning prayer. ". . . And whenever you stand praying, if you have anything against anyone, forgive him, that your Father in heaven may also forgive you your trespasses.  But if you do not forgive, neither will your Father in heaven forgive your trespasses" (Mark 11:25-26).
Did you see it, the combination, the release timer to heaven's prayer vault? The mountain Jesus refers to is not necessarily our difficulties in life or even a literal mountain—dynamite and bulldozers have proven effective for this. The mountain Jesus refers to is the "mountain of malice." Often unintentionally, stealthily malice creeps in our heart and hinders our forgiving someone. Subsequently, it also closes heaven's answers to our prayer needs. Have faith today to forgive someone and watch God destroy the mountain of malice and open heaven's vault.
Step in
Be amazed
Take the tour
See your wealth of answered prayer
and know His peace